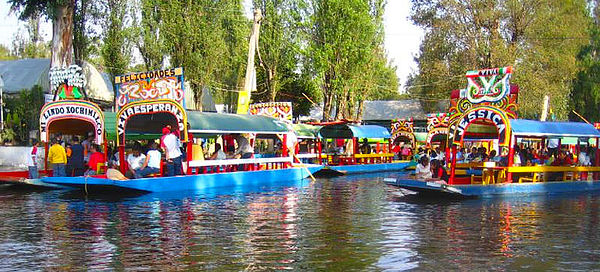 If you want to get the 100% Mexican experience, you can't miss Xochimilco.
Located to the south of Mexico City the area of 125 square km has been declared a World Heritage Site of UNESCO.
Xochimilco is covered with water canals of over 170 km and artificial islands where lazy boats called trajineras move slowly, often entertainig tourists with mariachi's performance.
​How to get there from Casa de Chiles?
​Take the metro from Chapultepec direction Pantitlán. Change at the station Pino Suárez, direction Tasqueña. At Tasqueña get to the Train Ligero and take travel to the last station. Plan your trip well, it is a pretty long travel, it may take between 1.5 and 2 hours one way.
​Price should be 700 MXN for the entire boat rental for 2 h; you can always to bargain, but above this price, is starts to be a rip off.