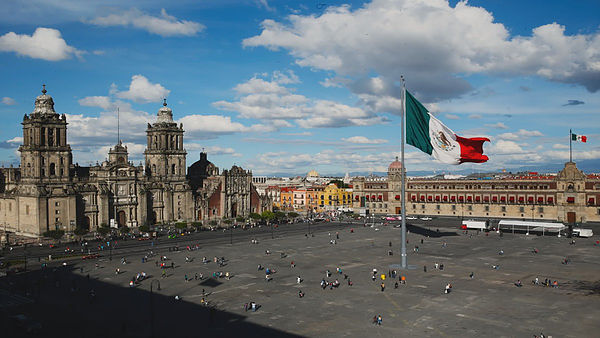 Zócalo is the central square of Mexico City. A common belief says that exactly in this place Aztecs saw the eagle sitting on a cactus devouring a snake. And according to the legend, the city should be created at the place where the eagle devours a snake sitting on a cactus. A lake there? Not a problem, dry it…. what Aztecs did.
That's why if you watch old buildings in Mexico City, you will see that some of them sunk in the ground and the door start below the street level.
A statue of an eagle eating a snake obviously is placed on Zócalo in one of its corners.
Zócalo is the biggest public square in the world, a real perfect square of 240 x 240 m. In the nothern part bordered by a city Cathedral, on the east side has the National Palace, where president of Mexico performs the "grito" on the 15th of September.
Close to the Cathedral you will find Templo Mayor, Aztec temple, which was destroyed by Spanish in 1521 and the material served to build the Cathedral.
Zócalo is a place for many major events, and even hosts an icerink in December and January, everyone can try to skate!
Among others, in May 2007 Zócalo served as the biggest installation of the naked work for Spencer Tunick: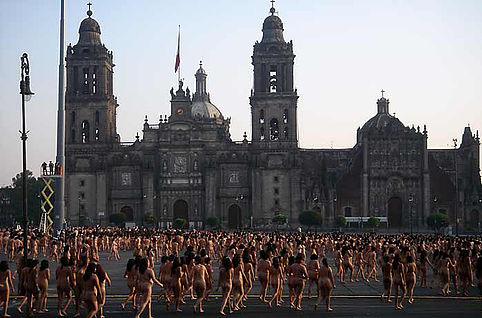 And in 2015 served as a movie set for the James Bond's "Spectre":
How to get to Zócalo from Casa de Chiles?
Take a metro from Chapultepec direction Pantitlán. Change for the metro no 2 at Isabel la Catolica direction Cuatro Caminos. Get off at the next station: Zócalo. Attention: try to remember where is the station once you are at the surface, there is no sign of metro at the Zócalo at all…