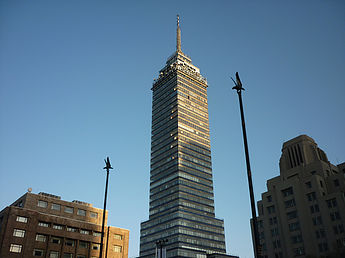 Torre Latinoamericana is a skyscraper located at Eje Central 2, close to Bellas Artes. Constructed in 1956 it survived the big earthquake in Mexico City in 1985 witout any scratch. On the top of the Torre Latino there is a permanent ehxibition of photography recalling the tragic event. The Torre is 44 storeys high, what translates to 181,33 m.
​Some facts about Torre Latinoamericana:
​it was the first building in the world with glass cover over all of it
first tower in the world with the quickest elevators (4 m /s)
first ever tower constructed on the seismic area
the sixth world building according to the hight between 1933 and 1960
fourth most important building in the world outside USA at the moment of its construction
most important building of the planet on the Cancer Tropic till 1973
​For all high lovers it is strongly recommended to take a lift to the top and get some photos of the incredible panorama of the city.
​How to get there from Casa de Chiles?
Take a metro from Chapultepec direction Pantitlán. Change at Salto de Agua for the metro no 8 direction Garibaldi. Get out at Bellas Artes and surely you will not miss the Torre!
​
Opening hours:
Every day from 9:00 to 22:00
​Price to get to the mirador: adults 80 MXN / children 60 MXN