Calavera Art Experience uses the Mexican skull to take us on a fascinating graphic, immersive, and virtual journey.
Different artists come together to talk about the same symbol: the skull
In ancient times, as well as today, skulls were offered, although they were rarely made of sugar or granola. In the past, the skulls were real, and their intention was to create a tzompantli: a funerary offering in honor of the defeated warriors and the deities of pre-Hispanic Mexico.
Today, devotion to the Aztecs is no longer the same, fortunately. But it still has that essence, and many exhibitions are held whose focal point is skulls.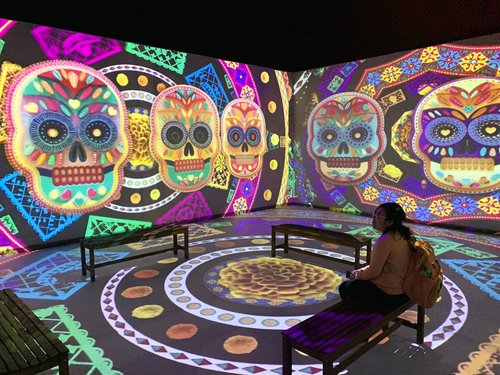 This exhibition takes the skull to combine different disciplines and merge art, immersive rooms, virtual reality, and a hologram in an immersive experience called Calavera Art Experience. It consists of 10 spaces where you can appreciate, enjoy, and experience different artistic disciplines.
First section of the Calavera Art Experience
In the first section, you can learn about the pre-Hispanic origins of the skull, as well as its connection to Mexican culture and, consequently, its art. You will also learn more about the history of artists Manuel Manilla, José Guadalupe Posadas, and Diego Rivera, pioneers of this movement.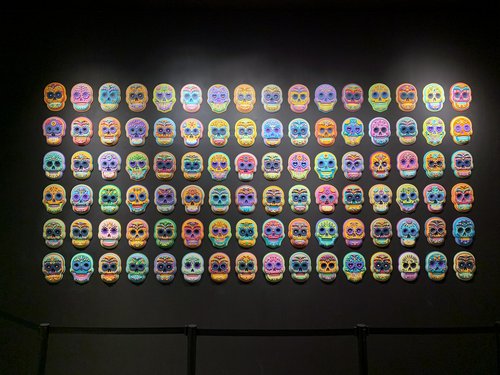 Print rooms
In the print rooms, works by the great Mexican printmakers are exhibited: Joel Rendón, Eduardo Robledo, Francisco Quintanar, José Lopez, among others. Further on, there is the Day of the Dead room. There you will learn about pre-Hispanic customs up to the present day and see photographic pieces and prints.
This exhibition offers a fascinating historical journey that brings together several artists who graphically tell us how the symbol of the skull has been incorporated into our culture. All this with virtual reality, immersive experiences, holograms, a gallery, and even places to take great photos.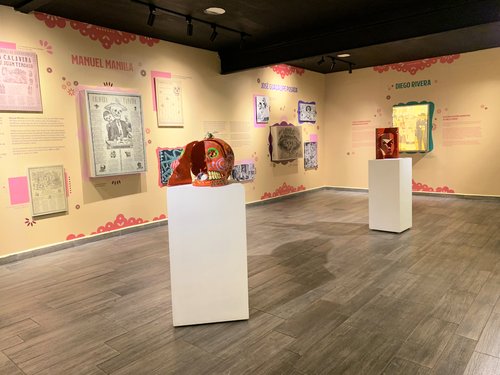 Further ahead is "La Ofrenda Infinita". There you can admire the hologram of a magical offering and make your beloved ancestors appear in it. You will also learn about the main elements of an offering and why they are placed.
The "Salón Tzompantli" is a colossal work by artist Lourdes Villagómez. It is an elaborately crafted tzompantli made with more than 90 different skulls, which will be available for sale. Visit Calavera Art Experience to learn more about one of the most emblematic figures in Mexican culture and history.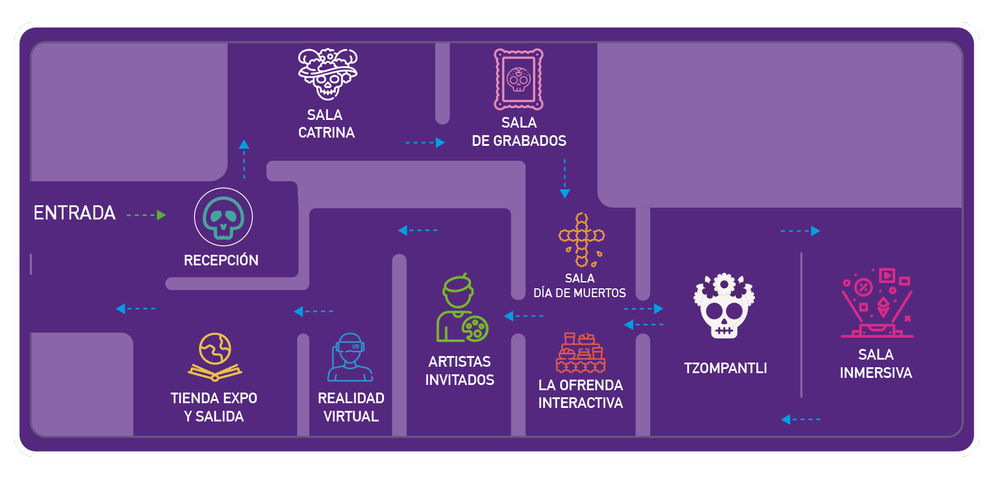 Where: Palacio Metropolitano; Tacuba #15, Centro Histórico, Cuauhtémoc.
When: Sunday to Thursday from 10:00 a.m. to 6:00 p.m.; Friday and Saturday from 10:00 a.m. to 8:00 p.m.
How much: $140 pesos (Monday to Thursday), $160 pesos (Friday to Sunday, holidays, and vacation periods)
Children aged 3 and under? Free.